Instructor: Naomi Tomky
Next date: May 8, 2024
Future dates: TBD
Duration: 4 Weeks
Price: $290, scholarships available.
Enroll now!
Great recipes guide cooks from grocery shopping to flawless dishes without creating questions. But it takes skill to spin big ideas and small movements into precise road maps. This class explores the art of writing instructions that result in consistent execution despite the variation in readers' kitchens, competence, and raw ingredients. Students will learn the best practices for contemporary cookbooks, magazines, newspapers, websites and food blogs. They'll also dig into how to skillfully navigate style guides, and communicate their culinary ideas clearly and appealingly to audiences.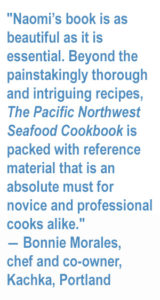 Instructor Naomi Tomky has written recipes for Saveur, Eating Well, and The Kitchn. She is the author of The Pacific Northwest Seafood Cookbook, which J. Kenji López-Alt, author of The Food Lab, described as "packed with recipes and useful tips, perfectly capturing the saltwater through line between the region's diverse cultural influences, both old and modern, all written with the ease and insight of a Seattle native."
Naomi has ghost-written and book-doctored a half-dozen other cookbooks for various publishers. She's also been honored by most of the major food writing awards in the United States, including the Best Food Writing anthology. In this class, she draws on her own experience and expertise, as well as recipes by her peers and idols.
Her Recipe Writing Intensive can help whether your goal is to properly record treasured dishes, publish in major food publications, or write a cookbook. Each week, the class spotlights one core element of crafting recipes. Naomi offers activities and readings, then critiques assignments, giving detailed, individualized feedback. These developmental notes have grown rare in the fast-paced world of publishing, even though they help writers accelerate enormously. They also allow participants to work at their own levels, making this course suitable for beginners and pros alike!
Each student will create, hone, and test a recipe during the class, giving them the skills to repeat the process independently. Please note: week four's project involves following a peer's recipe and crafting testing notes. The recipes should take a maximum of one hour to complete and may require purchasing ingredients (costs capped at $25).
The Recipe Writing Intensive runs in Google Classroom, allowing students to access materials 24-7, from anywhere in the world. It has deadlines, but no requirements to be online at particular times.
Please note: this course doesn't workshop recipes about dieting or disordered eating, in order to keep the classroom a safe space for everyone.
RECIPE WRITING INTENSIVE CURRICULUM
Week 1: Anatomy of a Recipe
Learn about the structure of a recipe — including headnotes, ingredients, and instructions — and how to navigate different style guides. Students will expand their understanding of what makes a good, saleable recipe and how to adapt a dish to make it their own.
Assignment: Write two headnotes for recipes you might want to hone in this class using two different styles detailed in the lecture. Because your classmates will test these later, each recipe should require no more than $25 of ingredients and take no more than an hour to make.
Week 2: Giving Instructions
The readings explore how to measure and list ingredients, and detail instructions. Discover the power of action words, markers of success, and purposeful word order to be clear and precise.
Assignment: Choose one of the recipes from last week — write out the ingredients and instructions.
Week 3: Myths and Mistakes
We will tackle the hottest issues in recipe writing this week, from heat vs. preheat to "salt to taste." Students will deepen their understanding of what style guides are, how to use them, and why standards like these exist. And they'll also learn when to push back against them!
Assignment: Edit the recipe from last week using a style guide from this week.
Week 4: Making Recipes Work
No recipe is worth its salt until it gets tested. This week the class will review the role of a recipe tester, why testing is important, and how to separate personal preferences from issues with a recipe.
Assignment: Each student will make a recipe by one of the other students and provide in-depth testing feedback. Make sure you have access to a kitchen!
SELECTED WORKS FROM NAOMI'S ALUMNI

FREQUENTLY ASKED QUESTIONS ABOUT THE RECIPE WRITING INTENSIVE
Is the course suitable for experienced writers?
The class covers everything from the basics through the nitty-gritty details and includes personalized reviews of each student's writing. Some of the elements may be a refresher for more experienced students, but overall there will be plenty of information for seasoned veterans as well as rookies.
Can unpublished or emerging writers benefit from this workshop?
Writers don't need to be published to participate! All we ask is that they have a desire to improve their food writing and are enthusiastic about the learning opportunity.
Where are the classes held?
We'll be working in Google Classroom, a browser-based teaching platform. This allows files to be shared easily, without cluttering your inbox, and gives you classroom access from any net-wired terminal, anywhere in the world. But you'll still have options to push alerts to email, if that appeals.
When does the bell ring?
Never! Go online whenever you please — the classroom is open 24/7 and the lectures are written.  But the course does take place within a six-week timeframe.
How much time does it take?
Roughly three to four hours. Each week will include readings, which should take 30 to 60 minutes, and an assignment, which often takes 90 minutes to two hours. Budget an additional 30 minutes for peer feedback.
Can I use generative AI?
Yes, as long as we can't tell! It's acceptable to use apps to facilitate research, headlines and outlines. But material submitted for critique must be original, fact checked, human-crafted work that can pass an AI-checker. If a project fails this test, it will be returned for revision.
What sort of success can I expect?
Your writing will improve and you will feel inspired and ready to move on to the next level in food writing, whether that's getting your first recipe piece published, landing a marquee byline or selling a cookbook proposal.
What stops other writers from stealing my ideas or recipes?
The class is a safe space to share ideas — each of us will be writing on our own topics and abiding by the ethics of journalism, which include not co-opting other people's ideas.
What if I have another question?
Email us at info@writelikeahoneybadger.com. (Please note: we supply this address so we can assist students and alumni. We do not accept proposals to improve SEO or app/web-dev proposals. All off-topic emails will be reported as spam.)